Local Action Project Year One: 2002-2003
Local Action Project Conference 2002
Upon learning of our acceptance into the LAP program, President Searles assembled a group to serve as the LAP team. As shown in the picture at left, in the front row are Cynthia Villanti, Ellis Gage Searles, Beverly Quist, and Gene Militello, as well as in the back row Jim Henck (our NYSUT Labor Relations Specialist) and Mike Donaruma.
The LAP team attended the week-long LAP Conference at Roaring Brook in Lake George. During the conference, the team learned strategies for strengthening member participation, welcoming new members, and building community support and political action (see "PA becomes first NYSUT community college to receive Local Action Project grant" in PAnorama Sept. 2002). The team also developed a budget for their first year grant and drafted a plan for local initiatives.
LAP Kickoff Event
Halloween-themed "Monster Mash" party ~ The event was decidedly celebratory, with a party in Payne Hall, to introduce our Local Action Project. The LAP team sponsored a best-costume contest and informed members about the Local Action Project.
LAP Membership Survey
To gain a better sense of the current involvement and ideas for future activities of our membership, our LAP team devised a Membership Survey. We made the survey available to members both in paper and online. As an incentive, upon completion of the survey, members were given a new blue PA polo shirt, like the one modeled at left by Marie Czarnecki.
A table summary of the complete survey results is available here: 2002 PA Membership Survey. Refer to the original survey questions to make sense of most responses.
LAP at MVCC Commencement
After reviewing the results of our Fall 2002 LAP Membership Survey, it became clear that our members wanted us to do more to recognize MVCC students. So we developed the idea to present a small keepsake gift to each MVCC student who participates in MVCC's Commencement ceremony. As shown at left, coin-style, bronze tone metal keyrings were designed to show the PA logo and motto on one side and the words "MVCC Graduate" encircled by "The Faculty and Professional Staff Congratulate You" on the other.
At Commencement, President Searles is on stage to congratulate each graduate and present this keepsake on behalf of the membership. (In the photo at left, Ellis presents a keychain to 2003 graduate Janna Strong, daughter of PA member Cathy Hardy.) The MVCC Commencement program also contains a letter of congratulations from the PA Executive Board on behalf of the faculty and professional staff of Mohawk Valley Community College.
Local Action Project Year Two: 2003-2004
Local Action Project Conference 2003
In year two, the team attended a week-long LAP Conference at Jiminy Peak. As shown in the picture at left, the LAP team attendees included Beverly Quist, Ellis Gage Searles, Gene Militello, and Cynthia Villanti. Our fifth LAP team leader, Mike Donaruma, was unable to attend. Not shown is our NYSUT Labor Relations Specialist, Jim Henck.
During the conference, the team learned more strategies for political outreach, community outreach, and internal & external communications. The team utilized a great deal of time reviewing their goals, refining their budget, and developing more initiatives.
Identity & Recognition Initiatives
In addition to covering our members in our bright bold blue PA polo shirts, the team decided to invest in a number of items to further develop recognition of the PA.
To enhance external recognition, they invested in a banner and magnetic vehicle signs as well as pens for distribution to students and parents during Summer Orientation and Registration Week.
To further enhance internal recognition, they utilized the LAP Communication Centers (bulletin boards) in three campus buildings, distributed more PA shirts (both white tee shirts and the new blue PA polo shirts), and gave a mousepad to all members at the annual January luncheon.
Other identity/logo items included lapel pins, picket signs, and stationery (letterhead, envelopes, and notecards). Finally, because the PA had negotiated for a new Benefits Trust Fund in the last contract, they helped develop a new logo for that as well.
Legisletter – Spring 2004
Political Outreach
During the second year of the LAP grant, the team leaders made great strides in improving their political outreach initiatives. These included conducting screenings for Oneida County Board of Legislators candidates and placing an advertisement in the New York Teacher as well as stepping up the local's VOTE-COPE campaign.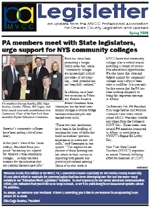 The team also expanded the PA's successful Educators Meet Legislators project by creating a special edition of our newsletter, PAnorama, for the Oneida County Board of Legislators. They titled the full-color, glossy newsletter the Legisletter, and it was a great success in educating our legislators about the good work that the PA does in terms of political outreach, community outreach, and student outreach.
Statewide Recognition & New LAP Team Leaders
Our first year & a half of LAP work was featured in the March 26, 2003, New York Teacher article: "Faculty union steps up community activism." Our LAP projects were also highlighted in the December 3, 2003, New York Teacher article titled "Faculty union forges its identity."
Aware that they had completed their second year and were about to embark on their third and final year, the LAP team reached out to involve more members. The talents, intelligence, and energy of Alison Doughtie, Steve Getchell, and George Zook will surely keep the PA's LAP efforts growing.