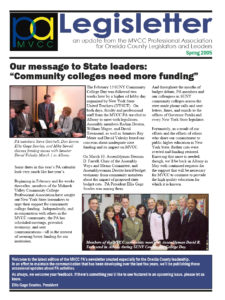 One of our successful political outreach projects is the Educators Meet Legislators project.
The first stage of Educators Meet Legislators involved members of the PA attending Oneida County Board of Legislators (OCBOL)meetings and making informative presentations during the public open-mic sessions.
The second stage is the Legisletter, a newsletter specially produced for the OCBOL to showcase some of the many good things that the PA does in the community.
Below we provide the history and details of each stage of Educators Meet Legislators.